How to buy a mattress online - advantages and disadvantages of skipping a visit to a retail store showroom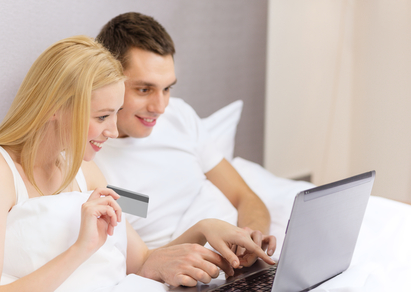 There is a first time for everything. You want to do it on your own and dedicate an entire Sunday to your computer, doing research from a comfy chair, and once decided just enter your credit card information and click submit. That's it. And a new mattress is on its way. Sounds easy right? Well not so fast.
Traditionally, people buy their mattresses in stores where they can physically try and compare them, then eventually arrange delivery and make a payment. Lately, more and more people are choosing to spend their time and money on mattresses online. Surprisingly, several studies indicate there is not a drastic difference in owner satisfaction of people who tried a mattress in a showroom prior to their purchase versus those who bought online.
Our general recommendation is to go and try several mattresses of the type you are considering (innerspring, memory foam...) in the store even if you end up buying it online. Especially if you are thinking about getting a completely different mattress type or support system from one you previously owned, it is a good idea to lay on it and get familiar with it before you pull the trigger.
So what are the advantages and disadvantages of shopping online?
Online retailers realize that in order to get you to spend a substantial amount of money on a product you haven't tried, they have to make it easy and convenient in order to overcome your apprehension. This is why you will find more detailed product information, comparison tools and mattress fitting guides online. High volume online stores will also provide a phone number or online chat option to get you in contact with a live person if you need any help. There are numerous sites to check for reviews about products and online stores as well.
From a cost perspective online retailers offer substantially lower prices due to the fact they have low overhead without the encumbrance of brick and mortar shops. Typically, there is no negotiating, relieving the pressure to decide on impulse. Most importantly, online retailers usually provide free delivery and a better return policy, oftentimes with a full money back guarantee.
Be aware of the brands and retailers that you have not heard of, and find out about their reputation and how long they've been in business. Most of the time, if the prices are too good to be true, they probably are. With the anonymity of the internet, anyone can open up an online store and sell mattresses while making claims of product superiority. There is no value in having a 10 or 20-year warranty if the company will disappear in 5 years.
As mentioned above, online stores offer a great return policy, but you will generally be responsible for packing and shipping costs. It certainly is not as easy as it sounds. When you do an exchange or return with a brick-and-mortar store, they will send a truck to pick up your mattress. When dealing with an online store, you are on your own, which means wrapping or boxing the mattress and foundation so it doesn't get damaged (you may not receive a full refund if the product is damaged during return shipping) and arranging a pick up with a delivery service (FedEx, UPS).
Brick-and-mortar mattress retailers will usually take an old mattress away when they deliver a new one. Some online stores provide this service for an additional fee, but most don't offer it at all. Thus, you will have to figure out some way of disposing of your old, heavy mattress.
Often, the reason behind online mattress shopping is to save money and avoid the high-pressure environment of the showroom. Mattress sales people can be intense, using tactics geared toward selling you a product that makes them more commission, rather than the best fit for you. They may haggle over price and attempt to force unnecessary accessories on you. However, a knowledgeable, experienced and ethical sales person can provide you with personalized service, product insight and invaluable assistance.
Hopefully, these tips will fill the void, and provide you with relevant information with which to decide where you are going to buy your next mattress.


Advantages and disadvantages of buying a mattress online


| Pros | Cons |
| --- | --- |
| Unrestricted time to research | Inability to see, touch, try |
| Convenience | Exchange hustle – packing, shipping cost |
| No salesman pressure | Nobody to answer your questions |
| Online store and product reviews | Old mattress removal |
| Lower prices | Unproven products |
| Better exchange/return policies | Biased reviews |
Advantages and disadvantages of buying a mattress in-store


| Pros | Cons |
| --- | --- |
| Testing before buying | Limited posted information |
| Knowledgeable salesman | High-pressure salesmen |
| Prompt delivery | Time consuming |
| Easier exchanges | Stressful |
| Negotiable prices, incentives | Higher prices |
| Old mattress removal | Sales tax, hidden fees |
Learn more about how to buy a mattress here
Compare services of different retailers here