What to look for when buying a new memory foam mattress - Your ultimate memory foam mattress buying guide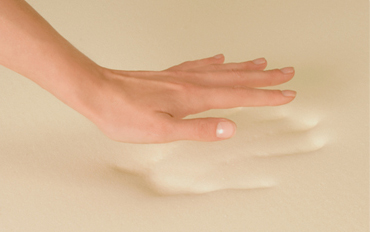 It is finished. Done. Your old mattress is no longer an option, not even with the fluffy down topper. You just made a decision to get a new one and you are starting your quest by getting some references from your family members, friends, and coworkers. The answer you probably will hear most often these days is: "You should get one of those memory foam beds, I totally love it, I sleep like a baby all night long". Well, why not get some of that love for myself too, you are thinking. So you start your research, you go online and read some articles and reviews. But, the more you read, the more confused you become by all these mattresses that essentially look the same and are promising a great night sleep for many, many years.
We completely understand how you feel. You are about to spend a lot of money on several pieces of foam that "guarantee" to change your life, but you have no idea how to pick one that matches your needs and budget.
After hearing all the wonderful things about memory foam it is time to experience it for yourself. We highly recommend going out and testing different memory foam mattresses to get a sense of the overall feel, general construction and comfort you prefer. With slow reacting memory foam you will have to invest a little more time than usual to gauge the feel of each mattress.
One more disclosure: If you are looking for an organic product or more of a natural mattress, you need to look elsewhere. Memory foam is an oil-based material, made from polyurethane with additional chemicals increasing its viscosity and density. Even with recent products substituting a portion of the oil with plant based oils it is still far from what could be considered natural.
At this point you should know all the pros and cons about memory foam - superior pressure relieving quality, support provided by molding and contouring to the shape of your body, reduction in tossing and turning, great durability, dust mite and allergen resistance, but also heat retention, initial mattress odor and sometimes difficulty to turn your body and move in it. If you want to dig even deeper you may visit our Memory Foam Mattress Guide to learn details about memory foam, its construction and manufacturing process, and explore different memory foam brands.
Equipped with all this information, you just need to pick the one that is right for you, will last for as long as the label promises and will not break the bank. Now this part is easier said than done. Even though all memory foam mattresses provide that contouring, molding feel and pressure relief, their support and durability varies greatly and is directly linked to the materials used for construction. We don't recommend buying a memory foam mattress unless you know the height and density of each layer of foam. Height and density of a foam layer determines the quality and durability of this layer, and overall quality and durability of the mattress is only as good as the quality and durability of its components. So, even one low quality foam layer can cause the mattress to under-perform in the long run.
For instance, very light, low-density foam contains more air pockets that compress and/or collapse over time, affecting the durability and feel of the mattress, and causing the foam to degrade faster.
So, how can you find the perfect memory foam mattress? The best way to start is to learn about the construction and every component of the memory foam mattress. Once you understand how the mattress is put together you can compare different mattresses and their components. Don't get swayed by the brand name or beautiful cover; it is what is inside that counts.
Memory Foam Mattress Construction
Memory Foam mattresses, like any foam mattress, are very simple in their construction, yet can vary greatly, especially in depth of the mattress and its components, as well as in the density these components are made from. There are typically only a few (2-6) layers of foam stacked or glued together.
The bottom layer is made from high-density polyurethane (referred to as the Core) and is the thickest (4-8 inches) and firmest, providing support for the mattress.
Top layers, one or more of which is made from memory foam, are softer, providing comfort and pressure relief. It is common to find an inexpensive memory foam mattress that has only 1" or less of actual memory foam, the rest being standard polyurethane.
On top of these foam layers is a fire retardant material – either natural or synthetic – and the whole mattress is covered in stretchy cover that holds everything together.
Learn more about memory foam mattress construction here
Memory Foam Types
Most of the reputable memory foam mattress manufacturers use open cell structure memory foam that allows for better resilience and breathability.
Traditional memory foam, and its original formula, was made popular by Tempur-Pedic and most mattresses nowadays are made from this type of foam with different qualities. The benefits are common among all types of memory foams but major differences are in heat absorption and response time. Traditional foam will retain more heat (though it might not be noticeable) and will have a longer response time, the so-called "quicksand effect", especially with softer, lower density foams.
Gel memory foams are becoming more popular because they advertise the improvement on traditional memory foam drawbacks – heat retention and response time. Gel foam manufacturers claim that their foams are much cooler, but the difference is miniscule and this may not even be noticeable by an end-user. Gel foams are made by infusing gel molecules or by adding gel beets to memory foam, giving the foam more resistance, so you don't sink in it too much and allowing gel particles to absorb excessive heat.
Other new types of memory foam, or next generation foams, use a similar approach as gel foams, where they mix traditional foam with other chemical elements to improve response time, lower heat retention and provide a certain marketing advantage (natural ingredients). We have seen some soy and tea extract based foams.
Some newer types of memory foam duplicate the construction of latex foam and contain deep holes throughout the entire layer to provide a softer feel and improve ventilation – known as "ventilated" memory foam.
Learn more about memory foam manufacturing process here
Memory Foam Quality
The quality of memory foam is measured by its density - pounds per cubic foot (lbs/ft3). There is a great disparity in density/quality among manufacturers and it is our job to provide you with relevant information so you can make the right decision.
Density of memory foam can vary between 2 to 6 lbs/ft3. More dense foams will be firmer, heavier, and more durable with a shorter response time, i.e., faster recovery to its original shape. Higher quality foam mattresses will be made from at least 5lb/ft3, thus being quite heavy and more expensive. We would not recommend a product with a main memory foam comfort layer density lower than 4lb/ft3.
Foam Support Core Quality
Also referred to as the inner or poly-core, this is the support portion of the foam mattress. Where innerspring mattresses use steel coils for support, memory foam mattresses use high-density polyurethane foam, which is usually 3-8 inches high. Do not get support foam confused with memory foam. Support poly foam has different molecular structure and will always be lighter and less dense than most of the memory foams out there. It is also way more resilient with very fast response time, unlike slowly reacting memory foam.
High quality mattresses use high-density polyurethane core (6-8 inches) whereas lesser-quality products will either use thinner support layers (3-6") or lower-density foam.
A typical foam support core would fall into one of following categories:
Regular Polyfoam (low) – under 1.8 lb
High Density - HD Polyfoam (medium) – 1.8 to 2.5 lbs

High Resiliency - HR Polyfoam (high) – 2.5 lbs and up.
Fire Retardant Material
Beginning on July 1st, 2007 all mattresses must meet flame-resistance standards set by federal law. This regulation requires that all mattresses be significantly more resistant to an open flame. Manufacturers use various techniques and different materials to comply with the law. Some apply flame-retardant chemicals like polybrominated diphenyl ether or PBDE to outer mattress layers. Others use fire resistant fiber barriers (FR sock) utilizing materials like Kevlar. Some manufacturers use wool or rayon as a natural fire retardant material or cloth made of hydrated silica and baking soda.
Mattress Cover
Manufacturers put a lot of effort into designing beautiful covers to impress potential buyers with techno/funky colors and hi-tech patterns that should mimic high performance sport clothing, improve ventilation, moisture wicking and heat regulation. None of this will be seen or felt once you put a mattress pad/protector and fitted sheet over it.
Inexpensive covers are made from polyester or polypropylene, while quality ticking is made from cotton, rayon or viscose, bamboo, tencel/lyocell and is breathable, flexible, durable, and antistatic.
Most of the memory foam mattress covers come with a zipper so they can be removed and washed. Closely follow care instructions on the label to prevent any damage to the cover. We highly recommend using a mattress protector/pad that can be washed regularly instead.
Health Impact
We highly recommend you consider CertiPUR-US® certified products first. CertiPUR-US® is a voluntary program administered by a not-for-profit organization and is the most rigorous and comprehensive certification for polyurethane foam. Seal CertiPUR-US® confirms that polyurethane foam has been tested and certified by independent laboratories.

CertiPUR-US® approved foams are:
• Made without ozone depleters
• Made without PBDE flame retardants
• Made without mercury, lead and other heavy metals
• Made without formaldehyde
• Made without phthalates regulated by the Consumer Product Safety Commission
• Low VOC (Volatile Organic Compound) emissions for indoor air quality (less than 0.5 parts per million).
One of the main complains from consumers after purchasing the memory foam mattress is the initial smell that will wear off and completely disappear with time. Though not harmful, it can be unpleasant for those sensitive to such odors. Memory foam mattresses in particular are known to have a stronger smell and often require an extended period of time to completely air out. Daily removal of the sheets from your mattress coupled with good air circulation can certainly expedite the elimination of this factory "new product" smell.
Heat Absorbing Materials
It is a fact that memory foam mattresses will feel warmer on average than, for example, innerspring or full latex mattresses. Manufacturers try every possible way to lessen this effect and have come up with various ideas about how to improve heat regulation and ventilation of memory foam mattresses (e.g., gel layer, gel infused memory foam, ventilated memory foam).
Lately, some manufacturers started utilizing phase change materials (PCM) that absorb, store and release heat for optimal thermal comfort (Outlast® technology). These are added chemicals on the top layer of the mattress that absorb excessive heat and keep your body cooler. You can feel immediate effect of cooling, but we are skeptical about how this material performs throughout the night.
Memory Foam Mattress Warranty
You should be well aware of warranty terms before making your purchase. Mattress warranties are either non-prorated (full value) or prorated (limited value), or more often, a combination of both. Most warranties start with a full mattress replacement for an initial period of time, and change to a limited (prorated) warranty as years go by. Typically, memory foam warranties are between 10 and 25 years with first 10 years non-prorated and the rest prorated – covering a decreasing portion of the cost as years go by. (Leading manufacture Tempurpedic-Sealy recently [3.1.2014] changed their warranty terms across all premium mattress lines to 10 year non-prorated).
All mattress warranties have an exclusion in terms, stating how deep of an impression on the surface of the mattress with no weight on has to be, to be considered a valid warranty claim and not a natural sagging. With memory foam mattresses this exclusion typically varies between 3/4" to 1.5". Since the molecular structure of visco-elastic memory foam is designed to return to its original shape, it is very rare to actually reach the 1.5" threshold, thus making this type of warranty irrelevant.
Probably the most important aspect of the mattress warranty is the process of handling the claim and getting a replacement. It could be quite exhausting and could take several weeks or months to complete. Unless you bought your mattress at a mattress store (usually big mattress store chains) that will facilitate the process, you will be responsible for packing and shipping the mattress back to the manufacturer, which will carry significant cost.
In-Home Trial
In order to increase value and make products more appealing, more and more manufacturers and retailers offer so called In-Home Trials. It is mainly directed to those hesitant customers who like the idea of memory foam but are not fully convinced of its benefits. Some people are rightfully worried about spending thousands of dollars on something they tried for 15 minutes and want the option to return it if it does not work out. Essentially, it is an exchange/return policy stating that if you don't like the product you can either exchange it or return it within a certain time. With some products you are required to keep it for a minimum amount of time (30-60 days) in order to proceed with an exchange/refund. We would recommend giving a new mattress a fair shot, at least 4 weeks, prior to initiating an exchange.
Unfortunately, it is not as great as it sounds. It is crucial for you to read the fine print regarding the In-Home Trial. Typically, there is a cost associated with an exchange or return – shipping cost, restocking fee, re-delivery fee, pick-up fee – and with bulky products like mattresses these fees are usually in the hundreds of dollars. You may be responsible for the initial shipping or delivery. Some retailers offer a full refund, but in the fine print they state that they will keep the shipping/delivery portion of the original amount you paid (even if shipping was free initially). You may be responsible for shipping the exchanged/returned product back to retailer (especially online purchases) or you may be charged a pick up fee. Restocking fee could be a set amount or most likely a percentage of your initial purchase price. Some retailers specify in fine print that the box spring/foundation/adjustable base portion of the set is non-refundable and can't be exchanged either.
Learn more about new mattress expectations here


We hope this comprehensive roadmap will help you on your quest for a new memory foam mattress and better night sleep. If you think you know what you looking for by now you can compare many memory foam brands and models right here on our website.